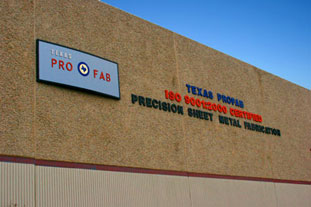 Texas ProFab Corporation is a precision sheet metal fabricator and finisher that was established at the start of the new millennium as an answer to the manufacturing industryís need for a quick response, "one stop shop" manufacturing facility. Since the companyís beginnings, it has proven itself to a wide variety of customers and OEMís in industries that span the entire gamut of commercial activity, everything from contract manufacturing and machining to entertainment and financial services.
Texas ProFab Corp. understands that the amount of time required to take a product to the marketplace can mean the difference between success and failure. As a strategic partner and integral part of your supply chain, we can minimize the time it takes to get your product to the marketplace and aid in your success. By offering a one stop shop where engineering, fabrication & machining, finishing including painting & silk screening, mechanical assembly, and packaging & shipping can be completed under one roof, a substantial amount of time and expense is saved compared to using several different vendors. Quick response manufacturing is normal practice for us; we understand that the majority of projects are "hot." From the time we learn of your project, we are already setting it in motion. The project, whether large or small, will not be lost amongst tiers of management or bureaucracy.
Whether your project is a prototype or very high volume production, 1 piece at a time or 5,000 pieces a day, the project will be completed quickly and precisely, and thatís our goal. For your precision sheet metal fabrication and finishing jobs, Texas ProFab Corp. will continually strive to ensure extraordinary value through high quality and timely delivery.


ISO 9001:2000 Certified in Precision Sheet Metal Fabrication; Machining;
Powder & Liquid Coatings; Silk Screening.