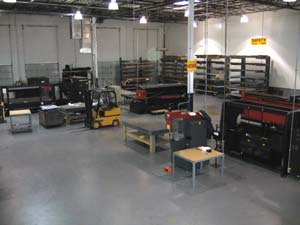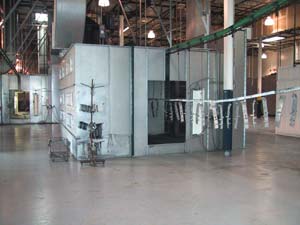 We invite you to come in and take a tour of our facility to get a closer look at what Texas ProFab Corp. can provide for you and your company.
Metal Fabrication:
Our facilities are equipped with new, state of the art equipment which allows for a large array of process capabilities including Fully Automated Dual Gantry Flying Optic Laser Cutting; Automated Turret Punching and Tool Grinding; 8-Axis Press Brakes with Offline Programming; Heavy Duty Rolling & Forming; Auto Fed Hardware Insertion; Spot, Mig, and Tig Welding; Automatic Grain Sanding; High Capacity Vibratory Tumbling; In-House Machining; Current Maintenance on Many Engineering/Productivity Software Packages; and much more. To help provide the quickest turnaround possible, we also have an enormous inventory of standardized, custom, and special tooling. Finally, our inventory includes a healthy stock of most standard metal sheets to help facilitate our quick turn capabilities.
Powder and Liquid Finishing:
In addition to our metal fabrication equipment, we provide one of the largest paint and silk screening facilities in the state. Our facility is equipped with two automatic paint lines, each consisting of five stage pre-treatment washing systems, 100 foot long dry off ovens, three waterfall paint booths with filtered air makeup units on each line, infrared flash off ovens, filtered clean rooms, and 120 foot long cure ovens. In total, Texas ProFab Corp. has nine large paint booths (including three batch booths) and three batch ovens. We also have the ability to accommodate parts with the dimensions of 20 feet x 4 feet x 6 feet. All of the equipment is monitored in a centrally located & air conditioned control room which provides an array of process controls and feedback for consistently high quality. To supplement our pursuit to provide all of a customer's needs under one roof, we also provide complete silk screening and light mechanical assembly services to our customers.